"And as you wish that others would do to you, do so to them."
Luke 6:31
How have you been a good friend today?
"Love is more important than anything else. It's what ties everything completely together."
Colossians 3:14
How did God show his love for the world?
How do you show your love for others?
What can you do today to show love to other people?
'God said to human beings, "Fill the earth with people and look after it. Care for all that I have made."'
Genesis 1:27
What is our responsibility to care for God's world?
How can I behave responsibly today?
Who relies on me to act responsibly?
"I am the Lord your God. I am holding your hand, so don't be afraid."
Isaiah 41:13
How was Jesus courageous?
What helps people to be courageous?
How have you shown courage today?
"It is better to be honest and poor than dishonest and rich."
Proverbs 16:8
Why is it important to be honest?
"Try to earn the respect of others."
Romans 12:17, paraphrase
Who do you respect and why?
What sort of behaviour earns respect?
What do you do to show you respect someone?
Welcome to Year One: Hedgehog, Mole & Otter
Documents and Presentations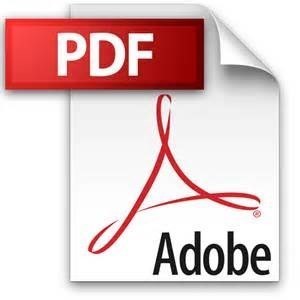 Click on document to view/download/print
All items in PDF format
A few reminders:
Please clearly label all your child's belongings

Please remember to read daily with your child – 10 minutes a day makes a huge difference – and record in their reading record.
News Update
June 2017
We would just like to share some of the highlights of the last few weeks of the spring and summer terms. What a busy time we have had so far! The children have all worked really hard and we have had lots of fun learning together.
Mothering Sunday art work:
We do hope you were impressed by the wonderful portraits created by the children, applying the art skills they learnt in the autumn term.
Easter cards – D.T.:
The children were very proud and impressed with their 3D cards which incorporated pop-ups, flaps and hinges. We do hope you all enjoyed the cards!
Easter Service at St. Martin's Church:
We finished the spring term with our whole school Easter Service at St. Martin's Church. The children reflected on the Easter story told through poetry and song with help from Chris from St Martin's Church. Our service concluded our Year 1 RE topic exploring both the joyful and sad aspects of Easter.
History – Transport topic school trip to Brooklands:
We all had a great time at Brooklands Transport Museum. We were shown round by very friendly volunteer guides who had lots of information about all the displays. The Sultan of Oman's aeroplane, with its plush seats and double beds with seatbelts, was a very popular exhibit. There were far too many highlights to mention but the Penny Farthing and Concorde inspired imagination and enthusiasm for the history of transport for most of the children. We all enjoyed riding on a real Penny Farthing and saw the F1 cars - most of us even got to sit in one. We were very proud of the way the children conducted themselves: they were well behaved, well-mannered and hard working. Well done Year 1! Once again, we would like to say a huge thank you to the parent helpers who joined us on the day and helped make it such a valuable experience for the children.
History – Houses tour of Epsom:
Another memorable highlight was our exciting 'Walk Around Epsom' house walk. We enjoyed walking around a short route looking at a selection of different styles of homes using lots of our new vocabulary to describe them; we were 'real historians' finding clues for what changes had been made to buildings since they were built. We saw lots of interesting things and found lots of fascinating clues about the past. Some of us even spotted a trompe l'oeil (trick of the eye) window and learnt about the history of a very old door. Once back at school, we mapped out the route we took and wrote about all the buildings we studied.
English – "Charlie the Caterpillar" stories:
We have been working hard in English this week becoming familiar with the story of Charlie the Caterpillar and his journey to becoming a butterfly, learning all about the true value of friendship on the way. The children enjoyed acting out and then planning their own stories in the style of the author. We really enjoyed the repetitive language and had great fun repeating it with enthusiasm! We will be making a class book of our stories and sharing these with our Year 4 buddies.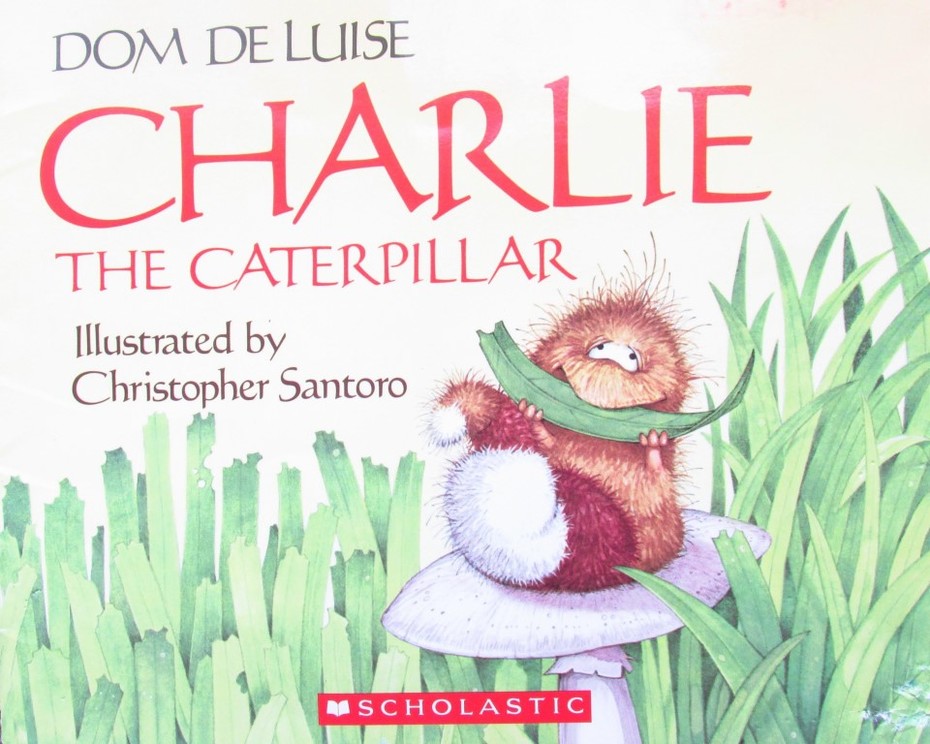 Science - the life cycle of a butterfly :
The mini-beast theme reminded us of our science work exploring and learning first-hand about the life cycle of a butterfly. It was absolutely magical to watch our caterpillars spin cocoons and eventually emerge from their chrysalis as beautiful, colourful butterflies. This happened right before the eyes of the children! After observing closely and watching them spread their wings in class, we eventually released our butterflies and watched them disappear into the sky to go off and start the cycle all over again. It was so exciting to see them flutter and disappear across the junior field but we were also a bit sorry to see them go!
Science – observing plants - planting sunflowers:
Also in science, we have continued to observe our plants growing over time. The sunflowers we planted already have visible roots and leaves. We keep watching, and are looking forward to seeing them develop flowers. A huge thank you goes out to Rose's mummy in Hedgehog class who came in to school to help us with our planting.
Dads Week:
We would also like to thank our Year 1 dads who came in to school to share their skills, talk about their jobs and read us stories during our recent "Dads Week". It was a real treat and the children – and staff - thoroughly enjoyed it.
R.E. – Christianity and Judaism:
In RE, we have been learning about the features and function of a church for Christians and have begun our new topic, learning all about Judaism. We will be finding out about Shabbat, the Jewish day of rest, the Jewish Holy Book, the Torah, and exploring a virtual synagogue. We look forward to making links and comparing different faiths over the next few weeks.
We do hope you all enjoy the rest of the summer term. Thank you all very much for your ongoing support.
Mrs Lacourarie, Miss Barranger, Mrs Smith and the Year 1 team.
January 2017 - Welcome back to the Spring Term. We hope you all enjoyed a wonderful Christmas holiday with your families. The children have returned to school ready to work hard this half term.
We would like to offer a warm welcome to Miss Hoare, a student who has joined us from Kingston University, this term. Miss Hoare will be based in Otter class but will be getting to know the children across the year group in the course of her teaching practice. We also welcome Ivan, Daisy and Miko to Hedgehog class. Well done, children for settling in so well!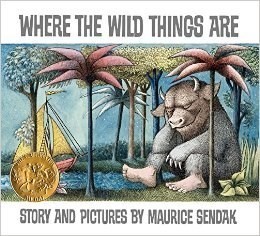 In English, we started the term by focusing on non-fiction texts. We began by writing a recount of our Christmas break. It was very interesting to find out what all our friends had been up to over the holidays. This week, we began our English focus on stories in fantasy settings: we thoroughly enjoyed reading and acting out Maurice Sendak's story, "Where The Wild Things Are." https://www.youtube.com/watch?v=6cOEFnppm_A
We have described the Wild Things using some amazing descriptive vocabulary including noun phrases and we will soon be creating, painting and describing our own Wild Things for our displays. We have also been thinking about how to make the plurals of nouns and practising our phonics skills.
In maths, we have focused on and money and doubling numbers. We can now recognise British coins and have practised our addition and subtraction skills to solve problems involving money. We have set ourselves the challenge of learning doubles of numbers up to 10 – or even 20! – this half term. Children might enjoy practising their doubling – adding the SAME number – and coin recognition using the following website links:
In science, we have really thought about observing closely. We looked hard at the apple trees in our school grounds – all the leaves have now fallen off and the branches are bare. We learnt the terms "deciduous" and "evergreen". Looking very closely, we spotted some very small buds and predicted what the tree might look like next time we have a look in the spring. We are looking forward to watching what happens to our trees over the seasons. We asked lots of questions about what we saw, just like Curious Cully. We also used our new questioning skills to ask what we could find out about to do with the weather. Another exciting event in school has been planting spring bulbs; we will be looking after them and using our observational skills to watch them grow over the next few weeks.
In geography, we have continued to observe the weather and were excited to see some typical winter weather at last with frost, snow, ice and sub-zero temperatures! This week, we have begun to think about the United Kingdom and identified where we live on a map.
Mrs Lacourarie, Miss Barranger, Mrs Smith and the Year 1 Team.
Autumn Term - An update of all the exciting activities over the second half of the Autumn Term.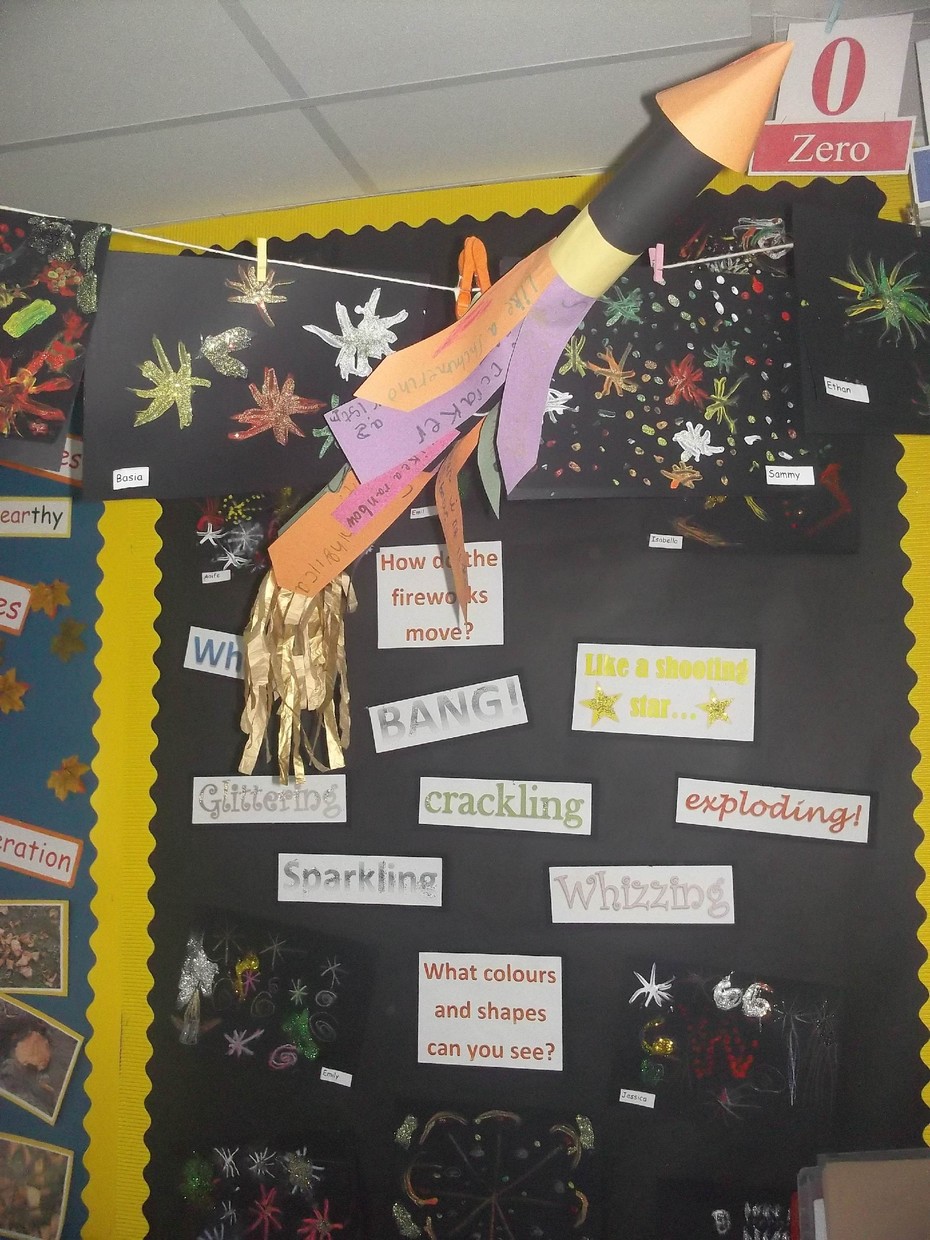 November saw us thinking about and describing fireworks and learning about the events of the first bonfire night in 1605! We were wowed by the amazing vocabulary and language – including alliteration and onomatopoeia - the children came up with to describe their sensory experiences of fireworks which they then used to write some imaginative poems. We continued the firework theme in our art lessons. The children produced some fantastic paintings and drawings as well as 3D models of fireworks.
On 11th November, we had a thoughtful morning reflecting on our school value, "Love", with a particular focus on our families as well as those people who gave up their lives in the wars in our Remembrance Day. We were silent at 11:00am along with the rest of the school. We thought hard about the families of service men and women as well as the service men and women themselves, both now and in the past. We all thought about how we could show our families and friends that we loved them.
In Maths, we learnt "number bonds" (2 numbers that make another number), practised our addition and subtraction skills using a variety of different equipment and strategies, and learned to read, write and order numerals and write numbers as words. We also made a great start to thinking about the benefits of working systematically to find all the possible answers to a problem !
In English, the children continued to work hard on their phonics, spellings and high frequency words (HFWs) and explored our Traditional Tales topic with great enthusiasm! We focused on the story of the Gingerbread Man and even followed a set of instructions – a recipe – to make our own gingerbread men which we decorated and then enjoyed! This was also linked to our computing curriculum in which we learned all about algorithms. For some of us, it was our very first baking experience! Spurred on by our success, we wrote our own instructions to help others who might be tempted to have a go too!
Our history topic got us thinking about toys from the past and present and we thought carefully about different ways we can find out about the past. We learnt the term 'research' and found out lots of information about different types of toys over the half term, also reflecting on how materials used to make toys have changed. We tried hard to imagine a world without plastic! The highlight of our topic was Heidi's visit from Chertsey Museum. The children explored different toys from various historical periods first hand and even got to play some games from the past. It was fascinating and thoroughly enjoyable!
In science, we investigated, and again used our observation and prediction skills, "observing scientifically", as we watched tea leaves float and sink and clear water change to raspberry pink, an amazing Skittles rainbow appear before our very eyes, and a poor old Gingerbread Man dissolve!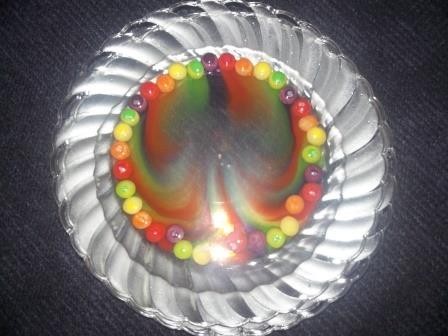 We ended the term on a high note with our fantastic Nativity play, "Little Angel", telling the Christmas story from the point of view of a rather late but kind Angel trying hard to earn his wings. We were all so proud of how well the children learnt their song words, sang beautifully and acted their parts so well.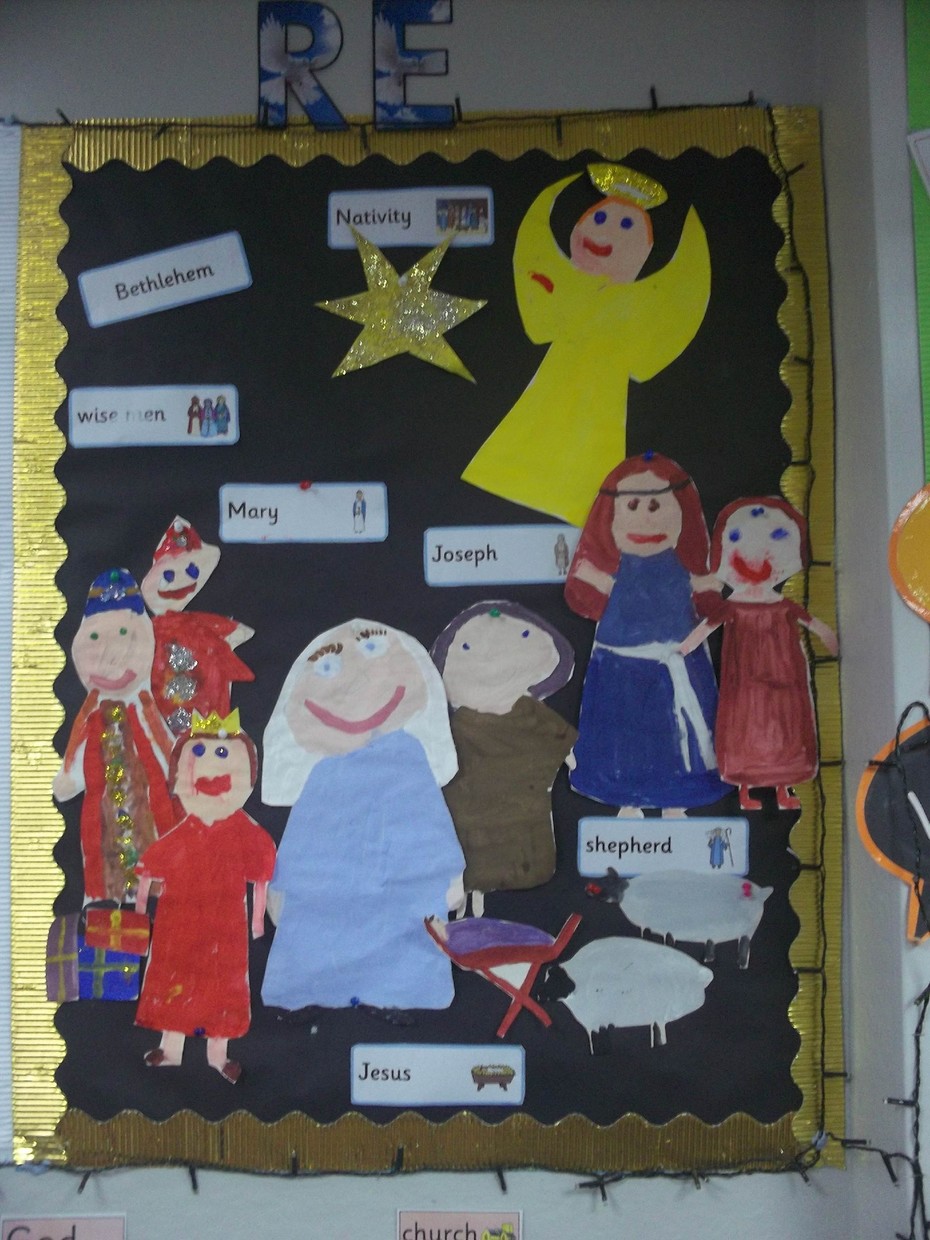 Best wishes,
Mrs Lacourarie, Mrs Smith, Miss Barranger and the Year 1 team
Update Friday 21st October 2016 - We cannot believe how quickly the half term has passed – it has been packed full of lots of exciting learning opportunities. Throughout the half term, we have been working hard at settling in and have continued to work really hard on our behaviour and manners: in assembly this morning, Mr. Marsh commented on how well we have been doing around school, in class and in the dining hall. Well done to all the children who are doing so well at becoming familiar with all the Year 1 routines.
We have thoroughly enjoyed reading through the homework this half term. From next half term, we will also be including spellings to learn each week. Just a reminder that there is no set homework over the holidays – please keep reading and practising your number skills! As a general rule, all homework, handwriting and spelling books need to be handed in on Tuesday so that they can be ready to go home again on Thursday.
In computing, this half term we have learnt about algorithms and gave instructions to a "sandwich-bot"! It was surprisingly tricky to give the instructions in the right order and we had to do lots of "debugging" before we were happy with the results! We look forward to making and recording our own algorithms next half term.
In English, we have continued to read stories with familiar settings, focusing on writing sentences and innovating a story ending for another Alfie story by Shirley Hughes.
We have been identifying nouns, verbs and adjectives in our sentences and working hard on remembering capital letters, spaces between words and full stops. We have also been reading and writing autumn leaves poetry using "Wow! Words" and alliteration for effect.
We have all worked hard learning our lovely harvest songs this half term which we thoroughly enjoyed singing. Harvest has fitted well into our RE topic "The Bible - Stories from the Old Testament'. We have listened to the Bible stories, 'Noah's Ark', 'The Garden of Eden', "Jonah and the Whale", "David and Goliath", "Daniel in the Lions' Den" and "The Wisdom of Solomon" and have been reflecting on the messages in these stories and their relevance to our own lives.
In maths, we have continued to investigate number and number patterns using different equipment and recording in a variety of ways. Most of us were able to use +, - and = correctly too! Keep practising adding one more and counting in 2s, 5s and 10s! Check the homework books for the Year 1 Maths targets for the Autumn Term.
Our science lessons have involved lots of scientific thinking and reflection. We had a great time exploring and investigating our senses at the "Senses Fair" at the start of the term and have continued to use what we learnt to investigate our world further. We have identified and classified animals into mammals, reptiles, insects, fish, birds and amphibians and have also identified and observed common British trees and their seeds. Some of us have begun to plant acorns and conkers in our Year 1 outside area. We will be continuing with this activity next half term and observing closely to see what happens next!
We have also been keeping a close eye on the weather and learning more about the autumn and its colours . All the Year 1 classrooms are full of autumn treasures which the children have been collecting to share.
In Games, we have been learning how to throw and catch different apparatus and have thoroughly enjoyed improving our skills!
We are really enjoying our art focus on different artists: we have been learning about Vincent Van Gogh's work with a focus on his "Sunflowers" paintings. We talked about the colours and textures and recreated our own sunflower art using paint, sand and pastels inspired by Vincent Van Gogh's work. We were amazed to learn that some of his paintings are housed in London's National Gallery !
We wish you all a restful holiday and are looking forward to another exciting half term after the break.
Best Wishes,
Mrs. Lacourarie, Mrs. Smith, Miss Barranger and the Year 1 team
Update September 2016 - Welcome to Year 1! What a fantastic start the children have made to life in Key Stage 1 (KS1)! We have been very impressed with how sensibly they have all settled down to their learning and are getting used to the new Year 1 routines. We warmly welcome Nicole to Otter class and Benedek in Mole Class and say a sad goodbye to Megan in Otter. We will miss her but wish her well in her new school.
We have been really thinking about our learning and learning behaviours and this half-term's school value of "Friendship". We have focused on thinking hard like Thinking Thedrick and working in a team like Teamwork Taura; we have been practising asking great questions like Curious Cully and have thought hard about how we could be a kind friend to other children in school.
In English, over the first few weeks of term, we have been focusing on stories with a familiar setting. We have learnt what a familiar setting is and have been reading and talking about the stories 'Alfie's Feet' & 'Alfie Gets in First' by Shirley Hughes. We have now started our phonics groups and we will be learning our High Frequency Words too. We will soon be starting 'Guided Reading' sessions - reading in groups to develop our comprehension skills - working on a shared text, led by an adult. Look out for the stamp in your child's Reading Record book! Handwriting lessons are now well under way and we have begun to use a cursive script and form our letters accurately. Please support your child by helping them practise at home, checking that they are using a correct pencil grip. Please remember to use a pencil!
In maths, we have been counting and adding, using numbers in lots of activities and using a variety of maths equipment to help us. We have begun our 'Me and My World' topic in Science by thinking about the world around us and how we experience it. A recent highlight was our 'Senses Fair' – an exciting mixture of experiences to encourage the children to focus on using their senses to experience our wonderful world. We also used our senses to design, make and evaluate a delicious, healthy fruit salad in our classrooms.
And finally, in art we had great fun experimenting with colour mixing and made our own colours to create our lovely portraits. Have a look at our corridor displays.